This post may contain affiliate links. Please read my disclosure.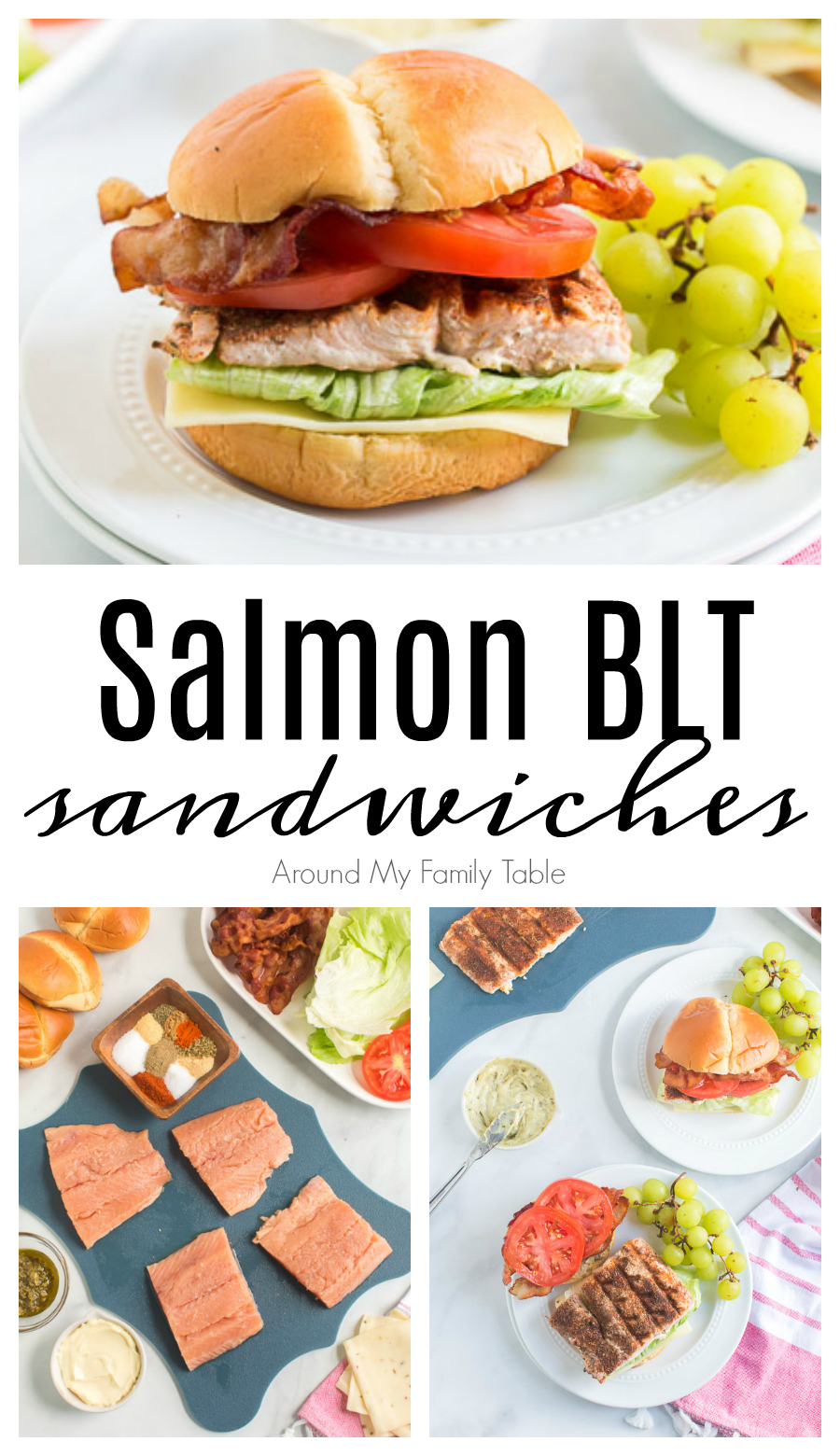 Grilled blackened salmon is delicious on its own but take it up a notch! Make this BLT sandwich recipe for a flavorful healthy lunch or dinner!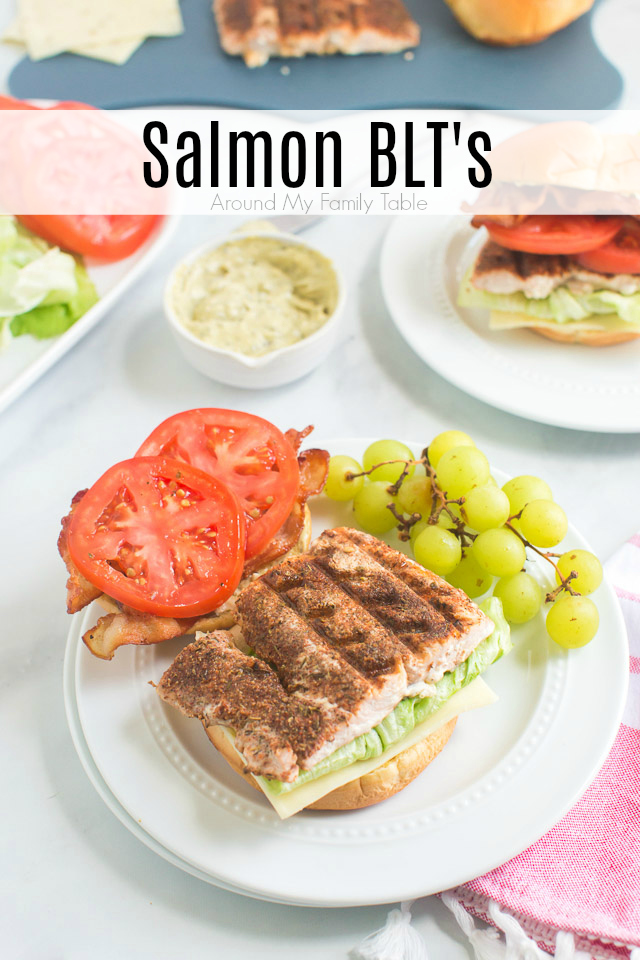 Is blackened food the same as grilled?
The answer is yes, blackening is a cooking method for the grill. But, there's also a unique blend of spices that make the food "blackened".

The technique and spice blend are both a creation of the famous New Orleans chef, Paul Prudhomme.
Creating the blackening spice blend isn't an exact science. Actually, the blend is easy to adapt to whatever you have on hand, or what you like.

Some people like their blackened salmon to be super spicy while others prefer it to have a mild kick.

The important thing is to use ground spices, not fresh. This is because fresh spices will instantly burn when they touch the hot grill.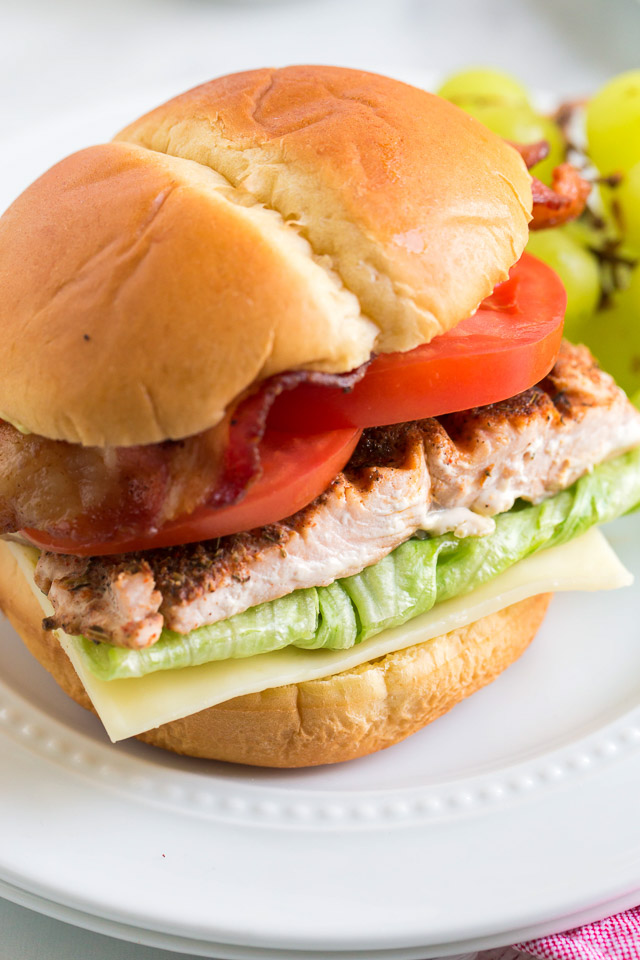 Ingredients to make this BLT sandwich recipe:
This meal is nothing short of mouthwatering! Grilled, blackened salmon, hickory smoked bacon, lettuce, tomato, pepper jack cheese and pesto mayo all on a ciabatta roll.
Blackening Spices
paprika
sugar
coarse Kosher salt
black pepper
garlic powder
onion powder
dried thyme
dried oregano
cumin
cayenne pepper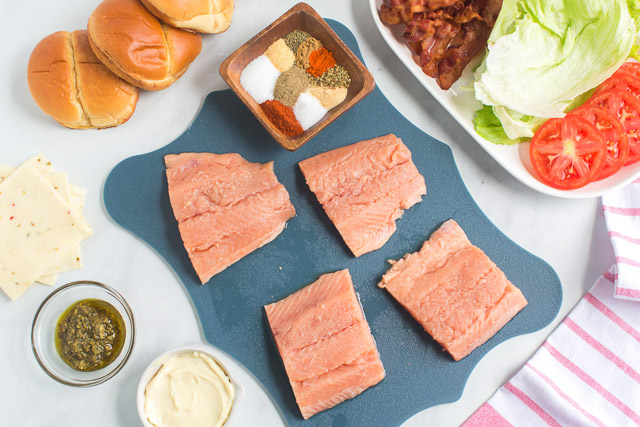 Ingredients for Salmon BLT
salmon (wild-caught salmon is best)
melted butter (optional, to baste the salmon before applying spices)
mayonnaise
prepared pesto
bacon, cooked (I use hickory smoked)
lettuce leaves
tomato slices
sliced pepper jack cheese (or your choice of cheese)
ciabatta rolls (or other hearty rolls)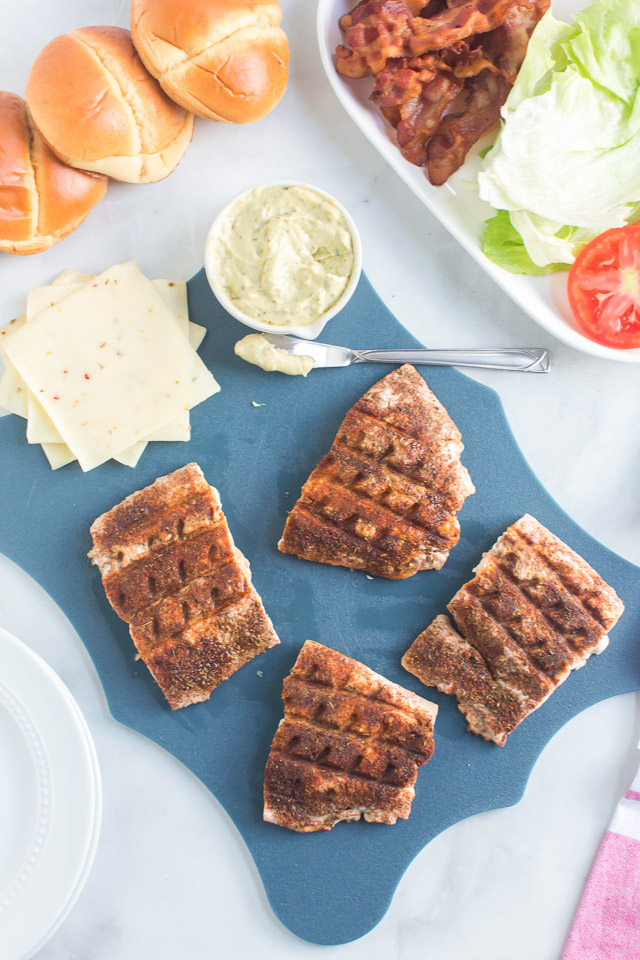 Tools for grilling fish:
Tips for making grilled blackened salmon
If the thought of cooking fish on your grill seems intimidating, I want you to know that it's really very easy to do.

The key is to prevent sticking by properly preparing the grill and the fish.
Here are a couple tips to help:
Thoroughly heat the grill. Salmon is very flaky fish, which means it cooks very quickly. For this reason, you want the grill to be as hot as possible before placing the fillets on to cook.
Oil the fish and the grill grates. Although it's optional, I recommend brushing both sides of the salmon fillets with melted butter before applying the blackening spice blend.
Not only does butter help the spices to cling to the fish, the fat also prevents the fillets from sticking to the grill.

Additionally, moisten a kitchen towel or clean rag with a high smoke point oil such as avocado or vegetable oil. Use kitchen tongs to hold it so you can brush the grates of the hot grill with it.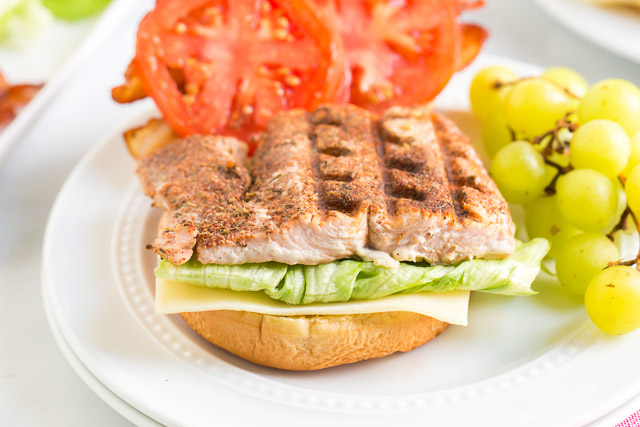 Serving Suggestions
Like any good sandwich, the perfect side dishes are things like mustard potato salad, creamy pasta salad, or baked vegetable chips.

But for a delicious change of pace, serve the BLT sandwich with a side of baked pickle chips!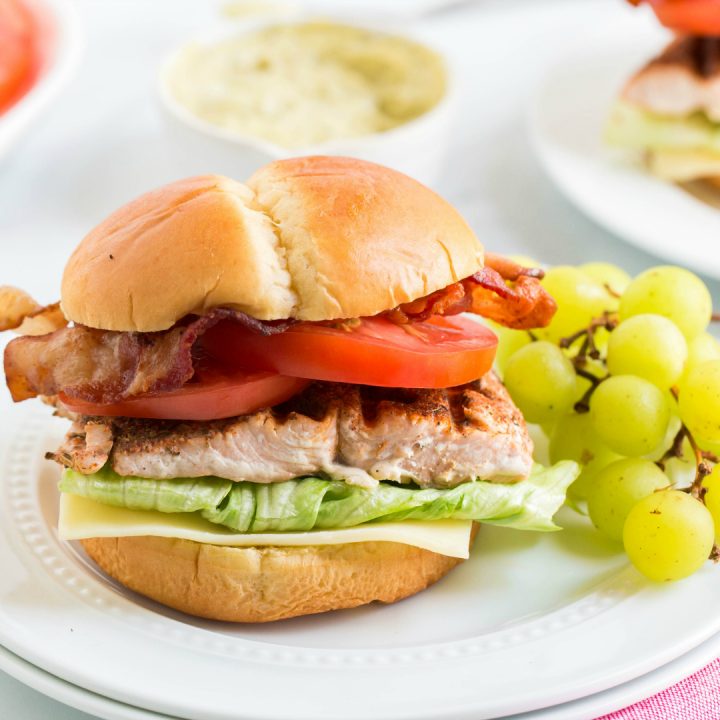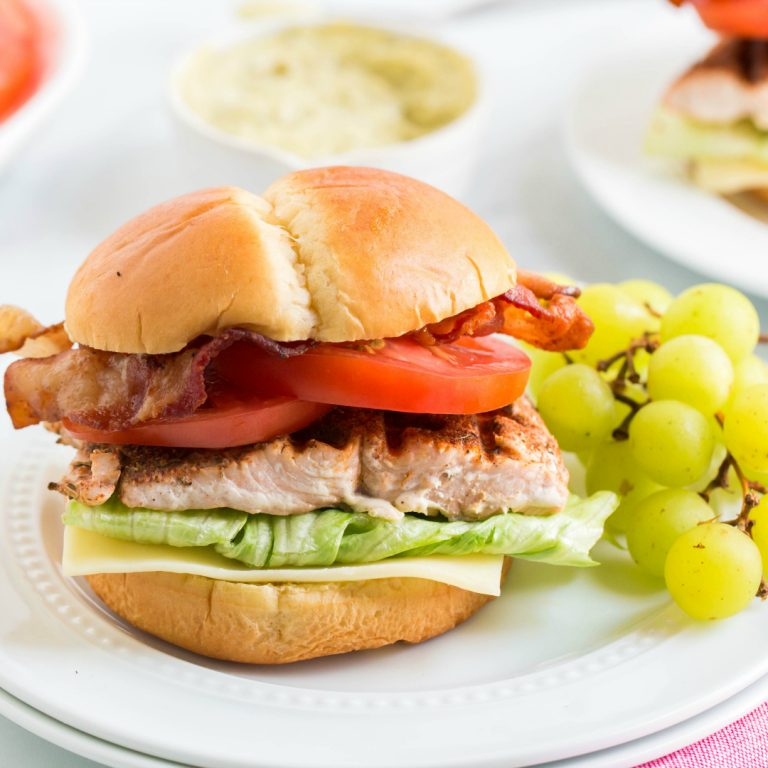 Grilled Blackened Salmon BLT Sandwiches
Salmon BLT sandwiches are a delicious twist on the classic bacon, lettuce, and tomato sandwich, made with fresh salmon fillets!
Ingredients
Blackened Seasoning:
1 tbsp paprika
1 tbsp sugar
2 tsp salt
2 tsp pepper
1 tsp garlic powder
1 tsp onion powder
1/2 tsp dried thyme
1/2 tsp dried oregano
1/2 tsp cumin
1/4 tsp cayenne
Pesto Mayo:
1/3 cup mayonnaise
2 tbsp pesto
Sandwiches:
16 oz salmon (cut into 4 equal pieces, thin and wide is best)
8 slices bacon, cooked (I use hickory smoked)
4 lettuce leaves
4 tomato slices
4 slices pepper jack cheese (or your choice of cheese)
4 ciabatta rolls (or other hearty rolls)
Instructions
Blackened Seasoning:
Combine spices in an airtight container.
Pesto Mayo:
In a small bowl, combine mayo and pesto. Cover and store in the refrigerator until ready to use.
Sandwiches:
Generously sprinkle salmon with seasoning (note: you won't use all the seasoning that you made). Let it sit while grill preheats to medium high.
Grill salmon using indirect heat (3-4-inches away from heat). Grill fillets for about 4-6 minutes (2-3 minutes per side) per ½ inch thickness, turning only once. Salmon continues to cook after being removed from the grill. Cook salmon until the meat begins to change color and becomes flaky. Check by inserting the tip of a sharp knife near the thickest part of the salmon and pull slightly. Well done salmon appears opaque and will flake easily.
Recommended Products
As an Amazon Associate and member of other affiliate programs, I earn from qualifying purchases.
Nutrition Information:
Yield:

4
Serving Size:

1
Amount Per Serving:
Calories:

863
Total Fat:

51g
Saturated Fat:

14g
Trans Fat:

0g
Unsaturated Fat:

34g
Cholesterol:

129mg
Sodium:

2350mg
Carbohydrates:

49g
Fiber:

4g
Sugar:

9g
Protein:

49g
This nutritional information is an estimate may vary, depending on brand and type of ingredients used. It is not intended to replace the advice of a licensed dietician or physician.
Pin this recipe to your favorite Pinterest board: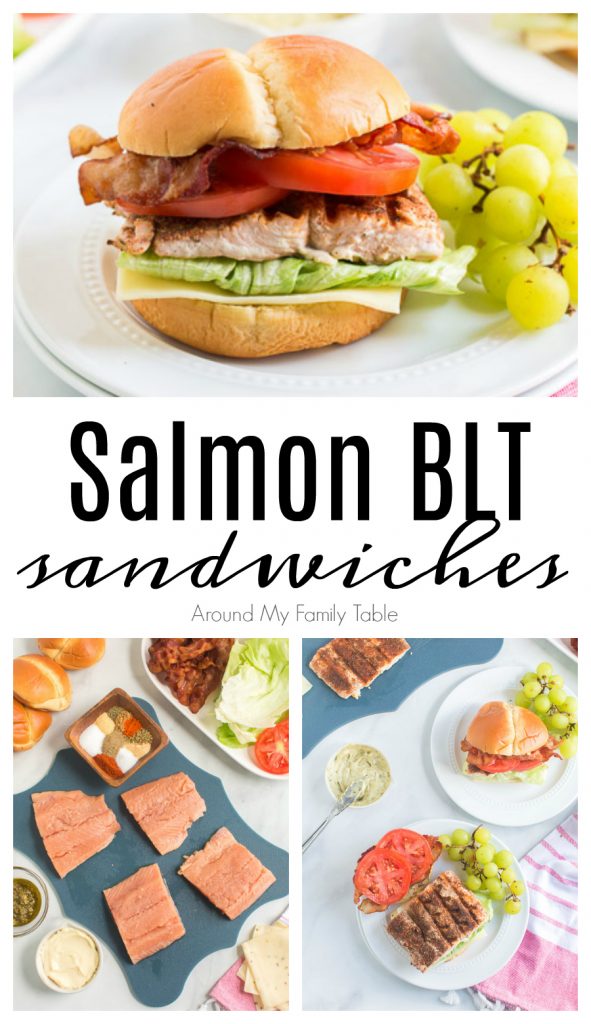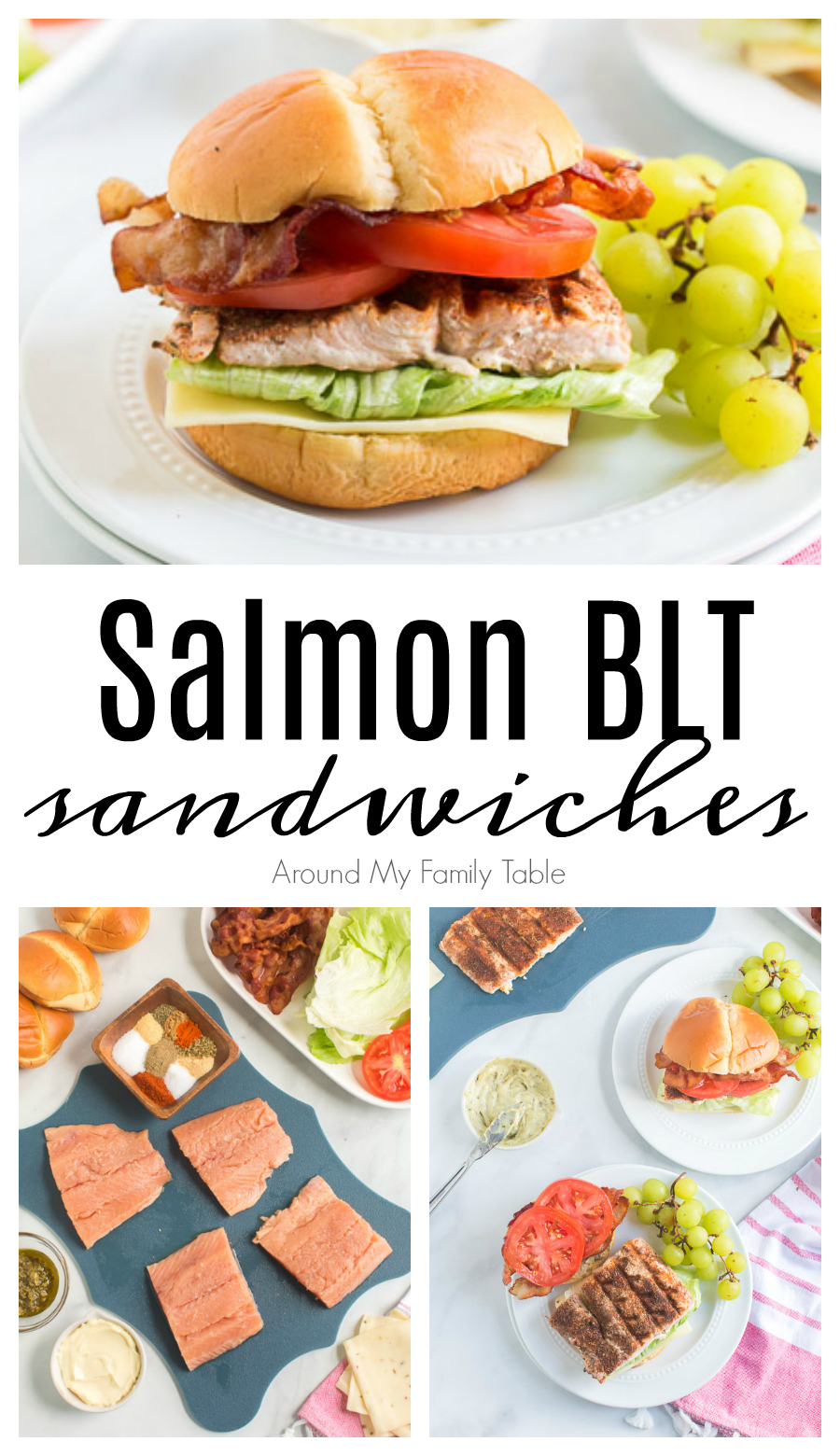 Originally published 6/27/2012; Updated 7/22/2020