This post may contain affiliate links. Please read my disclosure.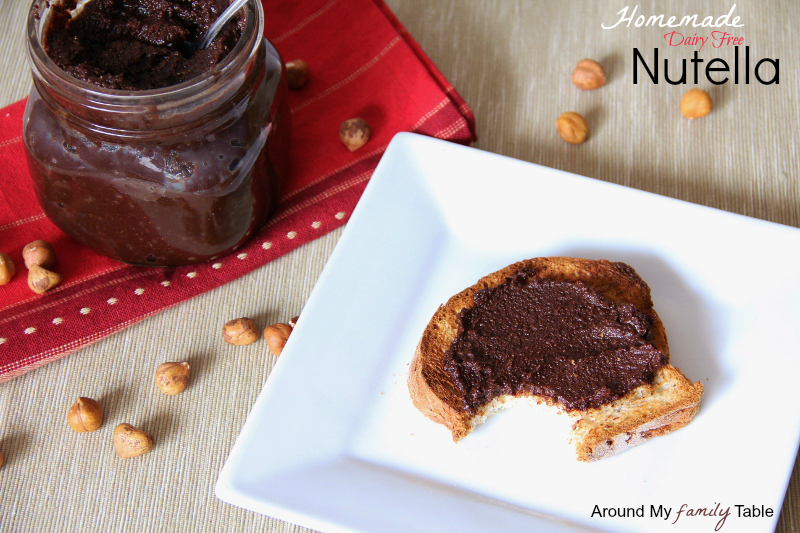 Quick! Grab a spoon! Seriously…what are you waiting for! You have to try this homemade dairy-free hazelnut spread. Yes…this is homemade Nutella folks, but without all the artificial junk!
I have had a love hate relationship with Nutella since I first tried it a couple years ago. It's so good, but I'm not a fan of the ingredient list! Little man on the other hand would eat Nutella sandwiches for breakfast, lunch, or dinner if I would let him.
Since I've had to give up all my favorite things, I thought I would try my hand at making my very own Nutella. It can't be that hard, right?!?! In fact it was so incredibly easy that I'm sorry I didn't try to make it sooner. In fact, I bet you can have this made and cooling in the fridge in under thirty minutes. I love quick recipes, don't you?

Before I give you the recipe, I thought I would share some great recipes on using up your new stash of hazelnut spread. Some are mine, some are from my friends, but all sound totally amazing! I think this should get you through World Nutella Day (which is tomorrow if you didn't already know).
13 Nutella Recipes for you
(these recipes are not necessarily allergy free, so you may need to adapt them to meet your needs)!
Nutella Blended Coffee Drink
Nutella Milkshakes
Nutella Banana Bites
Nutella Crepes
Flourless Nutella Cookies
Nutella No-Bake Cheesecake
Nutella & Bacon Crescent Rolls
Nutella Coffee Frozen Yogurt
Nutella Truffles
Nutella Swirl Rolls
Nutella Buddies
Chocolate Cupcakes with Nutella Frosting
Shortbread Nutella Bites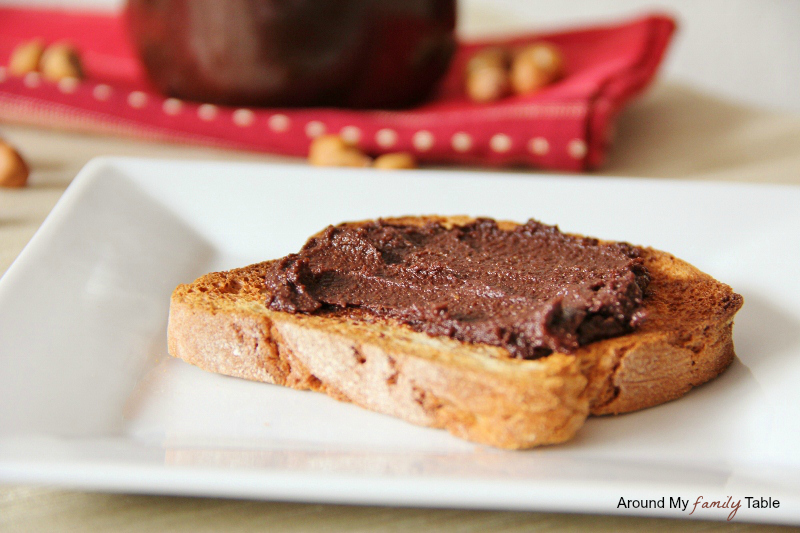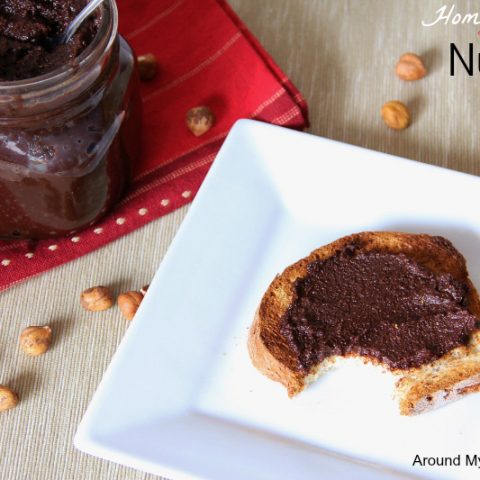 Homemade Dairy Free Hazelnut Spread (Nutella)
This homemade dairy-free hazelnut spread is full of chocolate hazelnut goodness, but is free of processed sugar, dairy, gluten, or eggs. It is vegan and totally amazing!
Ingredients
2 cups hazelnuts
16 oz dark chocolate chips
8 tbls coconut oil
1 cup coconut milk
2-4 tbls maple syrup (to taste)
2 tsps vanilla
1/4 tsp sea salt
Instructions
Preheat oven to 400 degrees F and roast hazelnuts on a small baking sheet for 10 minutes. Let cool and then remove skins by placing paper towels on top and bottom of nuts and rubbing. Don't worry if you can't get all the skins off, just remove as much as you can.
In a food processor or heavy duty blender, grind nuts to butter/paste, scraping sides. Takes 2-3 minutes.
Meanwhile, melt chocolate with coconut oil until liquid and combined; whisk in coconut milk until smooth and creamy. Add in salt, maple syrup, and vanilla. Mix to combine. While hot, pour into blender and process until smooth (little bits of nuts will remain), pour into glass jars and store in the fridge for up to one month.
Note: Texture will be more coarse than smooth.
© Around My Family Table