This post may contain affiliate links. Please read my disclosure.
Well, we made it through the summer and this is the last "How to Grill" post. There are a lot of grilling recipes in books and on the internet, but they often don't tell you exactly how to grill or how to use the equipment. I've put together this 9-week summer series, How to Grill, to help teach you what you need to know to get out there and use your grills, smokers, and how to perfectly cook your meats, veggies, and fruits. I hope you've enjoyed the series, but we still need to finish off with a bang. So fire up your grill and grab some fruit….we've got some fruit to grill!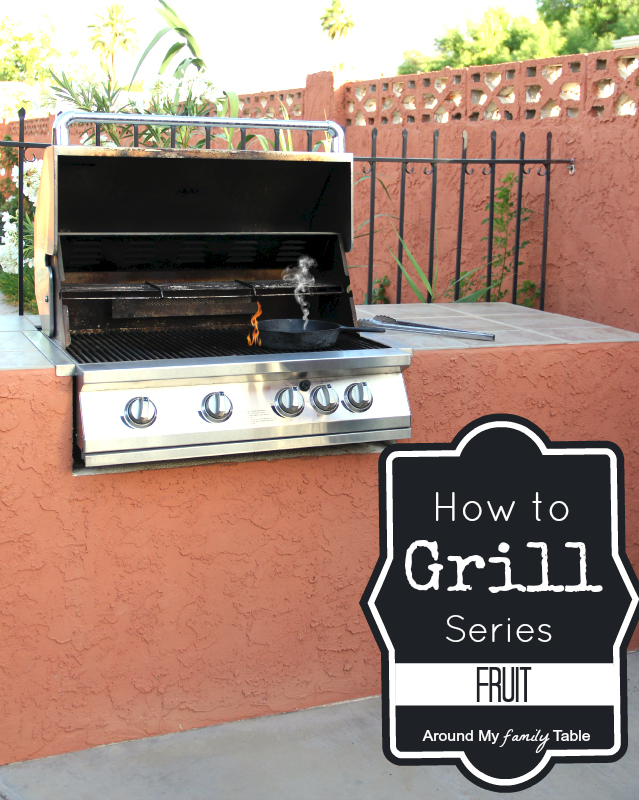 Grilling fruit couldn't be any easier. At first, the thought of warm grilled fruit just didn't appeal to me; however, once I tried it I couldn't stop eating it. All the sugar in the fruit caramelizes on the grill and turns super sweet. Here are my tips for grilling fruit.
Best Fruits for Grilling
peaches — slice in half and remove seed, leave skin on for grilling, serve with ice cream or even as a side dish
pineapple — cut into 1/2 in rings and dip in brown sugar, grill several minutes on each side, serve as a side dish to pork or as dessert
apples — cut into 1/4 inch rings, enjoy as dessert
strawberries–thread onto skewers and grill for 6-7 minutes
figs — pick figs that are ripe, but firm so they hold their shape, enjoy with ice cream or as a appetizer with prosciutto
plums–slice in half and remove seed, leave skin on for grilling, serve with ice cream or puree into homemade BBQ sauce
bananas — cut in half while still in the peel, dip banana side in brown sugar and grill for 3 minutes, make into a banana split
watermelon — cut into thick slices and grill for a couple minutes, let rest before enjoying as a dessert or even cut up on a salad
cantalope — cut into cubes and thread onto skewers
coconut–cut in half and grill white flesh down until it's a golden brown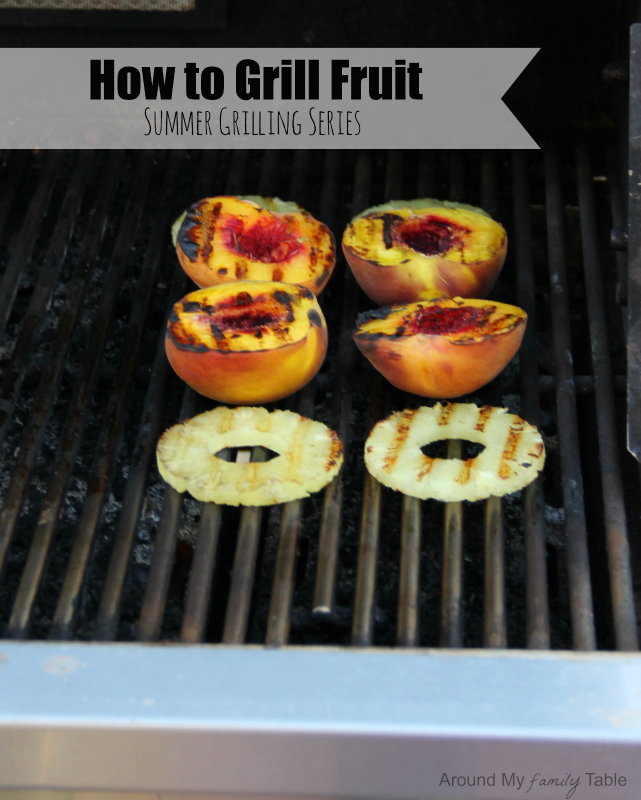 How to Grill Fruit
-Start with a clean, well oiled grill
-grill using a quick high heat to caramelize sugar, then to medium heat to finish cooking (cook at 250 to 300-degrees F for a gas grill)
-dip in course or brown sugar for extra sweetness
-add herbs and spices for a savory twist, get creative
-if maranating a soft fruit, let it sit about 30 minutes in the marinade before grilling
-add some nutmeg, allspice, cloves, or ginger to melted butter and dip apples before grilling
-keep skins on while grilling to help hold the fruit together
-grill when fruit is ripe, but still firm
-if worried about sticking spray fruit with a little bit of non-stick cooking spray
-let fruit rest for 5-10 minutes before eating so you don't burn your mouth
Want to know more? Check out the other posts in this series:
How to Grill: Using a Gas Grill
How to Grill: Using a Smoker
How to Grill: Using a Charcoal Grill
How to Grill Chicken
How to Grill Steak
How to Grill Seafood
How to Grill Pork
How to Grill Vegetables
How to Grill Fruit
Coming Soon….How to Grill eBook!