This post may contain affiliate links. Please read my disclosure.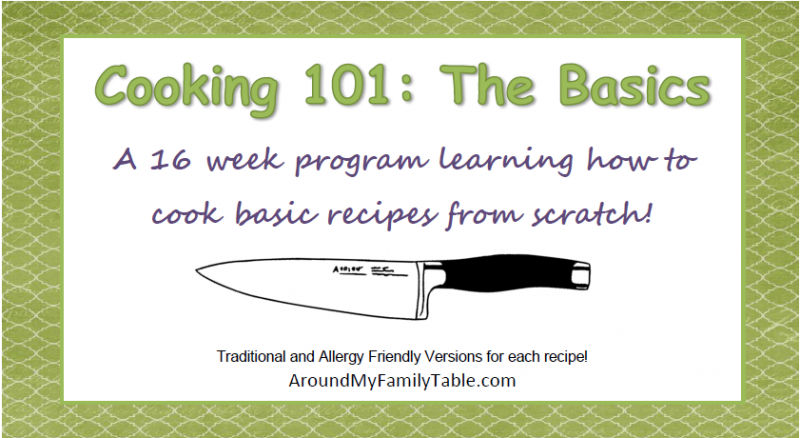 I'm so excited to share this series! I love cooking from scratch and hope you will learn some new techniques of cooking along our journey!
This will be the place to come every Wednesday for 16 weeks to learn how to cook from scratch recipes. It's like your own personal online cooking school!
Let's get started shall we? All I ask is that your register by joining the Facebook Group Cooking 101: The Basics. You can ask questions, talk tips and tricks, share recipes on occasion, and more!
Classes start NEXT WEEK…so sign up today!
Each post will have a way for you to link up your related recipes…so please make sure to grab a button for your sidebar (or put it in your post). Just link it to my home page and you're all set! Ideally, you will make the recipe (or your own version), write a post, and link up.
I'm giving the course outline below so that you can plan ahead.
Also, it's good to know that I plan on including both traditional and allergy friendly versions for as many of the recipes as I can.
Please Grab a Button:
If you are following along, the please grab a class button. Put it on your sidebar and/or in your recipe posts you link up (just link it to my home page). I'd love for you to share the classes with your family, friends, on Facebook, and on Twitter!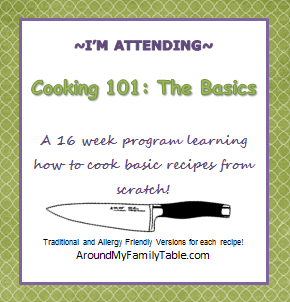 How the Classes and Challenge Work:
Cooking 101: The Basics is a 16 week class on Wednesdays. I will post a new recipe with tips on getting great results along with pictures. Take as long as you need, but once you make the recipe (or a similar version) come back and add your link to the post to share with everyone. No blog…no worries…add your pictures to the Facebook group, we'd all love to see them!
Got questions? Email, leave a comment, but the best place will be the facebook group!
Grab your aprons and let's get cooking!
Class Schedule
Week 1. A Well Stocked Pantry
Week 2. Tools of the Trade
Week 3. Gravy, Gravy, Gravy
Week 4. Brownies
Week 5. Marinara Sauce
Week 6. Hamburgers
Week 7. How to Roast a Chicken
Week 8. Pizza Dough
Week 9. Mashed Potatoes
Week 10. Sugar Cookies
Week 11. Hollandaise Sauce
Week12. Chocolate & White Cakes
Week 13. Pancakes
Week 14. Pasta
Week 15. Biscuits
Week 16. Pie Crust