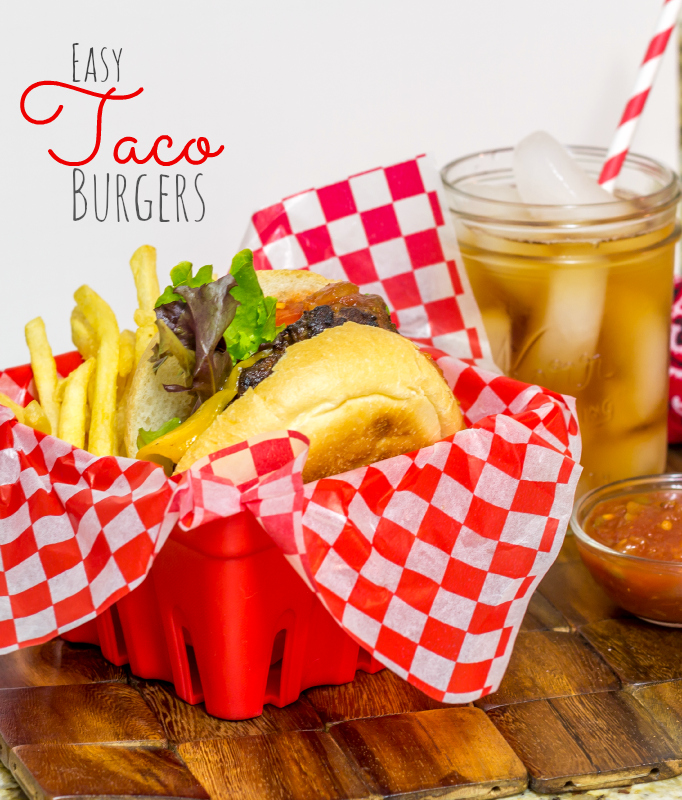 You've heard of 30 Minute Meals, right?  Well….I'm challenging myself (along with some other bloggers) to make 15 Minute Suppers!  I'm so excited to start this journey and I think y'all will love it.  I'm jumping right in with some Easy Taco Burgers.
Say adios to your typical grilled burger and say hello to my new favorite burger!  It's easy, full of great flavor, new toppings, ready in under 15 minutes and then all stuffed into a hearty bun!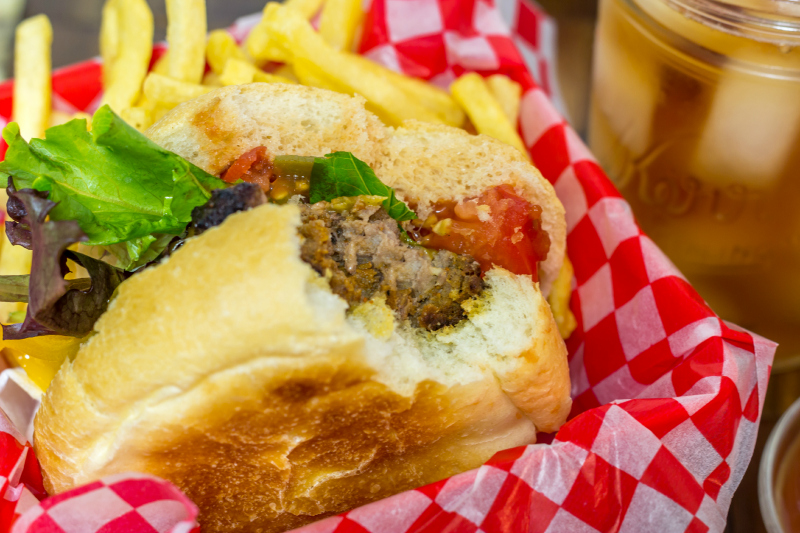 To keep this under 15 minutes, you need to use a premade taco seasoning packet…unless you are like me and make your own taco seasoning and keep your own in a jar to use.  No time for this 15 Minute Supper to make up your seasoning packet.
If you are new to making burgers from scratch then check out these great tutorials for making burgers from scratch and grilling with a gas grill or charcoal grill.
Easy Taco Burgers #15MinuteSuppers
1.25 lbs ground beef
1 package taco seasoning
6 slices medium cheddar cheese
6 tbls salsa
6 tomato and lettuce slices
6 hearty buns
Add ground beef and taco seasoning to a large bowl. Gently work the taco seasoning into beef, but don't overwork it and keep it cold. Keeping the beef cold and underworked will produce a more tender burger. Evenly divide beef mixture into 6 portions and form them into patties.
Preheat grill to high. Cook burgers over direct heat for 3-5 minutes on each side or until desired doneness. During the last minute or two of cooking time add cheese and let it melt on the burgers.
Remove from heat and top each burger with a tomato, lettuce, and a large spoonful of salsa. Serve on a hearty roll or bun.
©Around My Family Table
7.6.2
178
https://www.aroundmyfamilytable.com/easy-taco-burgers/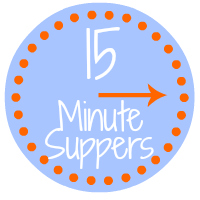 I'm so excited to be joining with a great group of bloggers every week to share 15 Minute Suppers with you.  15 Minute Suppers is all about getting supper on the table quickly with a homemade meal.  All of the recipe shared are super easy take only 15 minutes or less to get on the table.  Our lives are so busy that sometimes it's hard to find time to sit down together at the table for supper.  Well, say bye bye to the 30 minute suppers and HELLO 15 Minute Suppers!
Follow 15 Minute Suppers on Facebook | Twitter | Instagram | Pinterest
and look for the #15MinuteSuppers hashtag too
You have to check out these 7 fabulous 15 Minute Suppers:
Easy Taco Burgers from Around My Family Table
Cajun Chicken Alfredo from Monzanita's
Sesame Chicken Salad from Better in Bulk
Homemade Beef & Bean Chili from How To This And That
Italian Couscous with Sausage from Suburbia Unwrapped
Paleo Shrimp Salad Recipe from Confessions of an Overworked Mom
Healthy Pesto "Spaghetti" from Mindfully Frugal Mom
If you are a blogger and you'd like more info, please check out the 15 Minute Suppers website or ask to join the Facebook group to participate on Fridays…we'd love to have you join us.
Join the newsletter
Get Delicious & Seasonal Recipes in your INBOX every week.