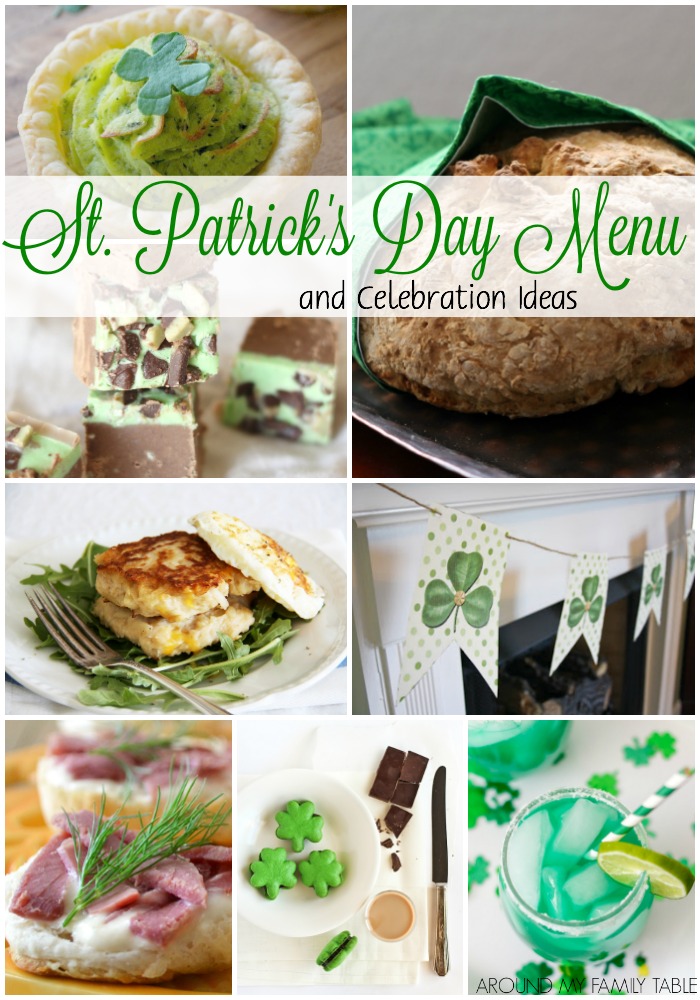 I seriously love St. Patrick's Day!  It is so much fun and the kids love the extra attention on a holiday that most don't celebrate.  I'm always looking for new creative foods, crafts, tables, and kid friendly ideas for this under appreciated holiday.  Since I was already scouring all my favorite sites, I thought it would be fun to share all the St. Patrick's Day Menu and Celebration Ideas that I found along the way.
Breakfast
Mango and Basil Breakfast Parfait
Irish Potato Cakes (Boxty with Roket & Fried Egg)
Green Eggs and Yam
Donut Pops
Sweet Matcha Almond Oatmeal 
Supper
Corned Beef & Cabbage
Grilled Ruben Sandwiches
Irish Tacos
Guinness Glazed Corned Beef
Salsa Verde Lasagna
Traditional St Patrick's Day Corned Beef and Irish Soda Bread 
Crock Pot Corned Beef & Cabbage
Sides
Gluten Free Irish Soda Bread
Whole Wheat Irish Soda Bread
Ruben Pull Apart Bread
Green Fruit Salad
Healthy Corned Beef Canapes
Traditional Irish Soda Bread 
Desserts
Shamrock Macarons with Baileys 
St Patrick's Day Rice Krispies Treats
Black & Tan Cupcakes
Chocolate Mint Trifle
Chocolate Stout Cake
Leprechaun Bait
Mint Chocolate Chocolate Chip Pizza
Mini Grasshopper Pies
Spinach Ice Cream
Shamrock Shake Cupcakes
Chocolate Mint Fudge
Beer and Chocolate
Double Chocolate Brownie Roll Out
Irish Triple Threat Mini Shot Cakes 
Irish Cream Cupcakes
Double Chocolate Mint Dessert
Shamrock Cookie Pops 
Drinks
Drinks for St. Patrick's Day
Leprechaun Coolers
Grasshopper Cocktail
Celebration Ideas
Celebrating St. Patrick's Day 
Celebrating St. Patrick's Day with Kids
Crafts
Irish Shrinky Dink Necklaces and Pins
DIY St. Patrick's Day Stamp 
St. Patty's Rag Wreath
Quick & Easy St. Patrick's day Craft 
DIY Lucky Chocolate Covered Oreos (and printable) 
DIY Craft Decor
St. Patrick's Day Wreath
Tablescape Ideas
DIY Table
St. Patrick's Day Table
Potato Place Holders
Irish Authors Table 
St. Patrick's Day Entertaining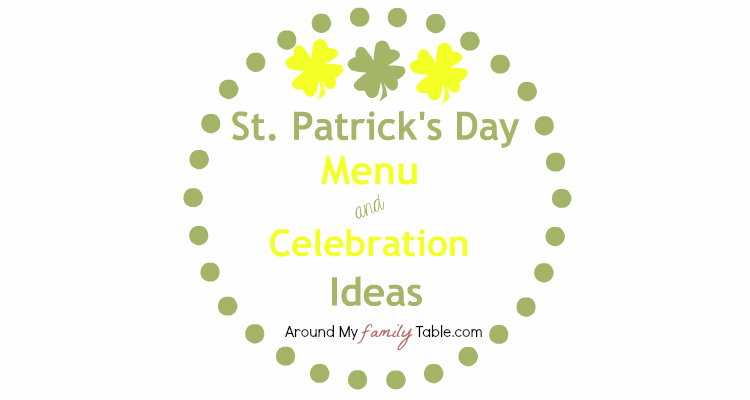 Join the Club!
Get delicious recipes delivered straight to your inbox each week! Plus learn how to take back suppertime in your home.

And get started with my NEW Take Back Suppertime 5-Day Jump Start Guide.